Senior Building Performance Engineer
ABOUT LEADING EDGE
Leading Edge is a California based sustainability consultancy. Originally grown out of building operations and energy assessments, the team has grown over the past 15 years to include design and construction, educational and ESG based services. We are 100% remote with built in flexibility from the start. We believe in holistic growth, a company-wide ownership mentality and serving our clients through a passion for solving the world's climate crisis through value-based expertise. 
We invest in you. We hold weekly LE EDU meetings where we learn from one another as well as our preferred partners in the business. Our leadership has a "YES" mentality, aimed at encouraging each team member's personal and career growth. Team members are highly encouraged to get involved in their communities, participate in educational events and think like a trend-sustainability-setter. 
JOB TITLE: Senior Building Performance Engineer
PRIMARY REPORTING : SVP
JOB STATUS: Full-Time
START DATE: September-November
CONTACT: Sara Hickman
EMAIL: sara@leconsultants.net
POSITION SUMMARY
Leading Edge is seeking an experienced Senior Building Performance Engineer to lead energy audits, operational performance assessments and onsite due diligence of buildings, including ASHRAE I, II, and III energy audits, retro-commissioning (RCx), BPS compliance assessments, and health, wellness and safety assessments.  The ideal candidate has a strong background in commercial building energy systems and  hands-on experience  with existing buildings, new construction is a plus.   
Professional Responsibilities
Creatively develop recommended measures and bundled strategies for clients to implement in support of decarbonization, operational performance improvement and health, wellness and safety goals. 

 

Perform load and energy analyses, potentially including energy modeling, for different energy conservation and electrification measures to evaluate energy and carbon impacts, as well as cost considerations.

Conduct onsite measurements and testing, including but not limited to ventilation air, indoor air quality, temperature and humidity, water quality, lighting levels and other operational performance key performance indicators in support of sustainability certifications such as LEED, Energy Star and WELL.

 

 
Required Experience
Bachelor's Degree in Mechanical or Architectural Engineering preferred, with a sound knowledge of mechanical, plumbing and building physics fundamentals as they relate to building systems. Candidates may alternatively have completed a union apprenticeship training program or equivalent, with a minimum of 4 years of demonstrated experience in building operations in lieu of a degree. 

 

Minimum of 7 years of experience in addition to a degree, union apprenticeship or equivalent, including building operations and/or designing building HVAC systems (airside and hydronic system components), understanding of controls and BAS systems, and energy performance analysis. 

 

Experience independently conducting and delivering energy audits, RCx, commissioning, and health, wellness and safety inspections.

 

PE, LEED AP and/or CEM (Certified Energy Manager) desirable.

 

Employment contingent upon the successful confirmation of employment authorization by E-Verify.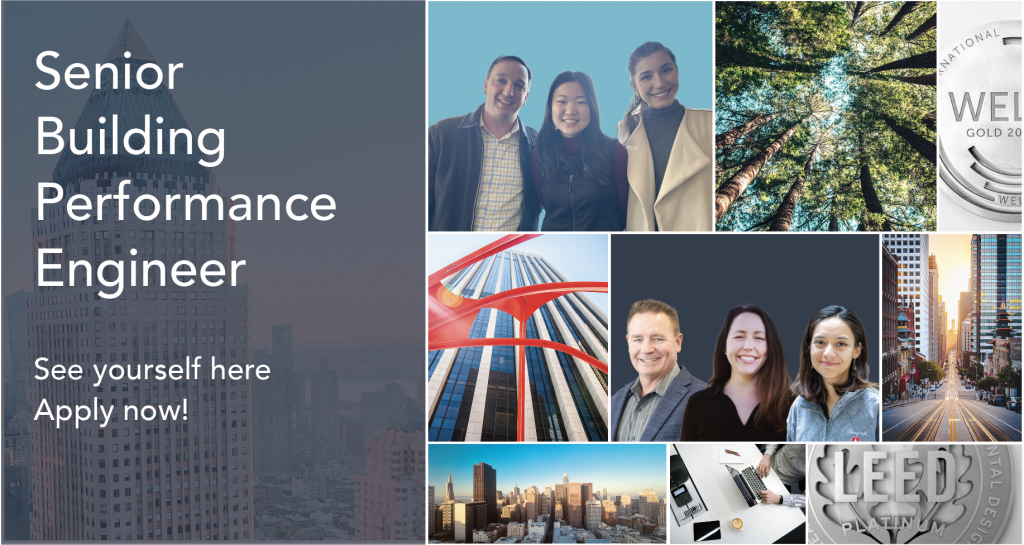 PREFERRED PERSONAL QUALITIES
Strong interpersonal skills that quickly build trust with facilities personnel based on professional credibility, proactive listening, and friendliness.

 

Strong attention to detail and ability to see trends and troubleshoot with limited information available, based on inherent knowledge, confidence, and expertise.

 

Team player who is willing to engage in company activities, contribute to company culture and help develop the skills of junior staff.

 

The Senior Building Performance Engineer will work with both the Decarbonization and the Existing Buildings teams and must be able to manage their time to complete assignments and meet deliver deadlines across teams.

 

Must be highly motivated, proactive and willing to take on new challenges.

 

Willingness and ability to travel within the US. The travel expectation is up to 25% of the engineer's time, with variability throughout the course of the year.

 
SALARY RANGE
The good faith base salary hiring range for this job performed in California is $89,000 and $150,000. In addition to the base salary, Leading Edge offers a generous benefits package, which is detailed below. Please note hiring ranges for candidates outside of California may vary due to cost-of-living differences. 
Benefits 
Weekly dedicated educational time

 

Semi-annual conference attendance 

 

Dedicated study time for advanced accreditations. (Up to 20 hours pending approval from management)

 

Home office stipend for office setup

 

100% paid medical, dental and vision benefits

 

Parental leave 

 

Travel reimbursement and flexible work schedules

 

Competitive merit-based compensation and annual bonuses  

Competitive PTO, holiday benefits and community / volunteer hours

Cell phone reimbursement

 

ESG based retirement contributions

 

National Park Pass Reimbursement

 
Flexible Working
We believe that flexible arrangements create a more inclusive way of working that supports our diversity and the wellbeing of our people. Leading Edge offers our employees the opportunity to work fully remotely. Team members are expected to have a dedicated workstation that is appropriate for completing their professional responsibilities and work 8 hours / day, preferably between 8am – 5pm (+/- 1 hr) in whatever time zone they are in. Schedule accommodations may be considered on a case-by-case basis.  
Leading Edge Consulting Services is proud to be an equal opportunity employer that is committed to diversity and inclusion in the workplace. We prohibit discrimination and harassment of any kind based on race, color, sex, religion, sexual orientation, national origin, disability, genetic information, pregnancy, or any other protected characteristic as outlined by federal, state, or local laws.

This policy applies to all employment practices within our organization, including hiring, recruiting, promotion, termination, layoff, recall, leave of absence, compensation, benefits, training, and apprenticeship. Leading Edge Consulting Services makes hiring decisions based solely on qualifications, merit, and business needs at the time.